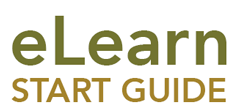 Use this guide to help prepare yourself for online learning.
What to Expect
To find out more about what to expect in online learning watch the following video or read through the information in this section.
Working in Online Classes
No two online classes are going to be exactly alike. Each will have different requirements, expectations, and assignments. Online classes are not self-paced. Like a face-to-face class, there will be weekly readings, assignments, quizzes along with other requirements. Active participation in class is required.
Taking even just one online course requires a substantial time commitment, so plan to spend anywhere from 10-20 hours per week on each online course.
Writing and Communication Skills
Online classes often require students to communicate in writing. Most of your assignments and the majority of your communication will be in writing. You might be required to write discussion posts to show that you have read and understood the course material. This is often how online instructors gauge student participation.
Interacting with your classmates and instructors is essential to online learning. Be willing to share your ideas, carefully consider your responses to others, and even be prepared to have your ideas challenged occasionally.
eLearning Technology
The technology used for online classes is always evolving, so be flexible as you complete your coursework. Be prepared for a challenging and rewarding learning experience. Many online students often report that online courses are just as challenging and even more challenging than those taken in the classroom.
Working in Online Classes
Online Learning Environment
You don't need to log in to class at the same time as your instructor or classmates in order to attend an online class. You'll have specific deadlines to meet for readings, assignments and learning activities. It's a good idea to access your class daily in order to keep current with class communications such as email, and discussion postings. Logging in frequently will help you keep up with class deadlines.
Online Learning Activities
Let's review some key online learning activities:
Log in to attend class
Read assignments
Participate in discussions
Collaborate with fellow students
Ask questions
The exciting thing about an online course is you can do all these activities at a place and time that is convenient for you.
Visit the eLearn Course Tour to see what an online class might look like.
Study Skills
If online learning is new to you, here are some ways to develop effective study habits. These ideas may help you better organize your work, engage in your class, and pace yourself to complete and submit assignments on time.
Find out about some of the effective study habits that successful online learners use.
Effective Study Habits
Log in to your classes daily. Once you get a comprehensive understanding of the class layout, a good guideline is to log in at least three times per week. Plan on committing 6-9 hours per week for each class.
Plan ahead and keep track of deadlines. This will help you schedule enough time to study for exams, complete assignments, and work through potential technology issues. Establish a quiet study space where you can work on homework and class assignments.
Participate in class communication by contributing to discussion posts and responding to your classmates and instructors.
Be willing to participate in group projects and communicate via email and instant messaging.
Take responsibility for your own learning and be proactive. Contact your instructors when you have questions, comments or concerns.
Be flexible and adaptable to new experiences. This will not only help you with your learning but it's a way to maintain a positive attitude and keep you motivated to stay on top of assignments, quizzes and deadlines.
Develop a support system. Friends and family can help you stay motivated.
Using Technology
Find out about what equipment and software you'll need as well as some of the basic technological functions and features you'll encounter when taking an online class.
Technology Requirements
Having a reliable computer, along with access to a fast, dependable Internet connection, is essential. Other technology requirements are likely to vary by class. It's helpful to have a printer, headphones, speakers, a microphone, and a webcam.
Computer Security
To keep your content safe, make sure you have virus protection installed on your computer.
Basic Computer Skills
You don't need to be a computer expert to take an online class, but it's important to be comfortable with some basic functions, features, and software like:
Using a search engine (Google, Bing, Yahoo, etc.) to do research and complete coursework
Knowing how to install software and change settings on your computer
Using word processing software such as Microsoft Word or Google Documents to complete homework assignments
Knowing how to create bookmarks, download and upload files and send/receive emails with attachments
If you're not proficient with using technology, don't give up. These are skills you can learn. Find a knowledgeable friend, family member, or fellow student to show you how. Then take some time and practice.
Viewing Media
To view all required class materials, make sure your Internet browser is capable of playing common multimedia formats, such as audio and video files.
Getting Help
Contact the Chemeketa Online Tech Support for help with any technology problem you may be experiencing.
Interacting Online
There are special rules of personal conduct and behavior that apply to communication in an online class.
Communicating in an Online Class
It's important to follow certain rules of behavior when communicating in an online class:
Be sure to have a meaningful subject line for your email and discussion board communication so others will know what to expect.
Be polite and respectful. Good online etiquette is vital to a productive and supportive online learning environment for everyone.
Be open to others' perspectives. You may be exposed to diverse views and backgrounds different than your own.
When responding to a communication, be objective and focus your response on the ideas, not the person.
Ask before forwarding emails from others.
Be thoughtful and considerate when using sarcasm and humor, and don't include obscenities in your communication. It can be easy for misunderstandings to occur when communicating via email
Using all capital letters in email is equivalent to shouting.
Don't send commercial advertisements or "chain mail" to your classmates.
Getting Started
Online Class Schedule
Go to the Online Class Schedule to find a comprehensive listing of Chemeketa's online course offerings for the current term.
View Online Class Schedule